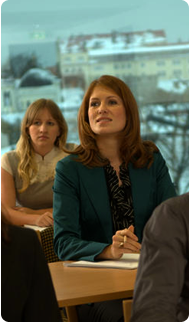 Release notes for Enterprise by HansaWorld 6.4
Enterprise by HansaWorld version 6.4 is released. HansaWorld continues to invest heavily in research and development, to provide customers with the most up-to-date business software on the market - as is evidenced by such major new features as
a full client for iPad and for iPhone
, and a client for the new
Metro interface on Windows 8
.
iPad Client
Enterprise now includes a full (native) client for iPad.
This simple-sounding statement covers a huge amount of potential, as you can now run almost all features of Enterprise from an iPad. The IT industry talks about "Bring Your Own Devices", meaning the movement to encourage staff to use their own equipment for work as well as at home - but for most companies this is theoretical rather than practical, as the only business software available for iPad (or other tablets) is small, role-based apps that talk to the central server. Users are not given full functionality, but rather a small subset of the total tasks they need to perform each day, and as a result remain dependent on using a desktop computer in the office.
The Enterprise client covers all modules.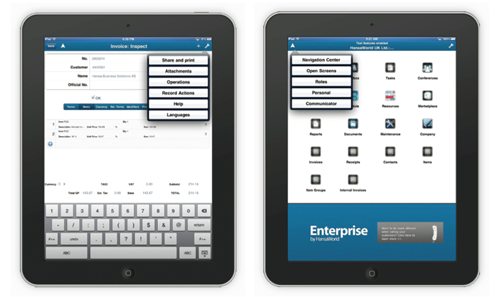 Metro on Windows 8 Client
Enterprise now includes a full (native) client for Windows 8, using the Metro interface. Since Windows 8 is not yet a generally available product, Enterprise on Windows 8 is available by request only. Metro is designed for use on all Windows devices, including computers, slates and phones, and so is Enterprise on Metro.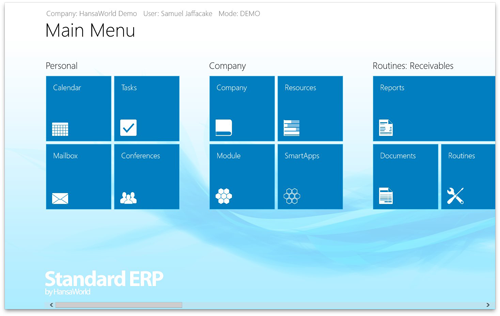 Additional features in Enterprise, all versions
Accounts (Nominal Ledger)
There's a new field on the matrix of the Transaction to allow a second description to be defined, which can then be printed out on the Transactions Journal and Summary reports, and Transaction and Simulation documents.
Consolidation
It's now possible to store consolidation exchange rates, separate from the transactional exchange rates used by the system. A new setting in the Consolidation module allows users to specify separate daily rates for Profit & Loss accounts versus Balance Sheet accounts, and then the Consolidated Trial Balance report can now be run using these rates or using transaction rates from all companies.
KPIs
Most of the KPIs that can be displayed on the Master Control Panel now support drill down to detailed reports.
Pricing
Support "happy hour" and similar promotions by specifying the hours that a Price List is applicable for.
Point of Sales
For Apple hardware resellers, Enterprise now supports an integration with Apple's GSX system for selling Apple Care - also known as Auto Enrollment. For new customers, you can scan hardware items and related Apple Care items, and Enterprise will send a Concurrent Sales registration to GSX. For customers that are buying Apple Care for an item previously purchased, scanning the Apple Care item and the original serial numbered item will validate with GSX whether such an item is eligible for such an extended warranty, and if so will then register it.
Sales Ledger Touchscreen
Previous versions of Enterprise allowed a button-driven interface to be superimposed on Sales Ledger Invoices, but this interface was different from the Point of Sales interface, and supported much less functionality. Version 6.4 introduces a "new" interface to the Sales Ledger - the same interface as is already available for Point of Sales.
.. and much more.
Download the full product sheet on Release notes for Enterprise by HansaWorld 6.4