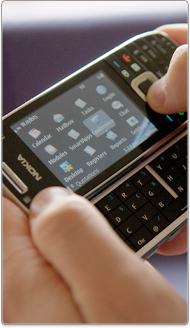 Mobile solution - Standard Organizer
HansaWorld provides business software that work on all major platforms including iPhone, iPad, iPod touch, Nokia smartphones as well as other various PDAs and Pocket PCs.
Using the mobile versions to access and enter your corporate information will lead to increased sales opportunities, reduced costs, better customer service, and a greater competitive edge for the business.
With the introduction of laptops, GPRS and wireless internet mobile working has started to become a reality. However, even a portable computer is something you have to carry along specially while your mobile phone is with you at all times.
Our mobile solutions give you unprecedented freedom to be where you want without losing out on opportunities that come your way. And without having to carry around three extra kilos.


Now he's able to run the reports without even getting out of the car

Peter, CIO at Kuvertteamet, on how the Sales Manager benefits from Standard Organizer