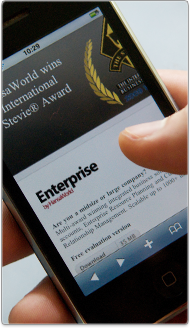 HansaWorld introduces Enterprise 6.2 with many improvements and a new module
STOCKHOLM, November 20, 2010 – HansaWorld, an award-winning provider of Integrated Business Platforms, announced today the release of its latest update for its flagship solution, Enterprise by HansaWorld.
"We're very excited about our latest release. In difficult economic conditions, when most of our competitors are in maintenance-only mode, we have released a new version with several fundamental new technologies, and major enhancements to vertical market offerings including Point of Sales, Hotel and Restaurant, and Human Resources Management. Any one of the new technologies could cause a stir in itself," said Stephen Jay, International Sales Director of HansaWorld. He elaborated further, "We see the speed of development of new functionality as further proof of our functional lead in business systems, and we are determined to lengthen our lead by continuing to invest heavily in new technologies and features."
Human Resources Management is the latest module to be added to Enterprise. This module allows managers to maintain comprehensive records on each of their employees, covering everything from contact details to dietary requirements, schooling and more.  Recruitment, leave management, resource allocation, skills identification and performance appraisals can also be managed using this new module. Furthermore, Enterprise provides a range of user-definable fields and unique classifications to be used in analysis and reporting.
In version 6.2 of Enterprise, the Point of Sale module received a large number of improvements and enhancements. An all new touchscreen interface now allows users to define buttons for functions such as payment methods, frequently used items, and their placement per POS device. Live Sync is a completely new method for synchronising local point of sale devices with the central server without user intervention and without the need for remote servers. Support for gift receipts, splitting items, loyalty cards, managers' discounts, multi buys, volumetric barcodes and unique fraud prevention has also been added.
"Our Live Sync engine in our opinion improves on any competitor technology available for retail companies, offering a seamless combination of real-time and offline in the event of network failure," added Stephen Jay.
The Hotel and Restaurant module has also been improved. You will now be able to handle group reservations, produce key cards and manage price rules and rack rate price lists with ease. In the Restaurant module, we added many of the same features as the POS module, in particular relating to loyalty cards, splitting items and multi buys. There is also now a user-definable graphical table view, from which waiting staff can open bar and restaurant tabs. Also you can now use an Apple iPad to take orders and process payments.
The iPod touch client adds support for barcode scanners and magnetic stripe hardware. You can now make mobile sales, take stock counts and process payments - all from a handheld touchscreen device.
Perhaps most excitingly of all, HansaWorld has developed a complete browser client, which enables almost all Enterprise screens to be displayed on web browsers. Mobile users can now do everything from entering time sheets and expenses to creating invoices, purchase orders, repairs and the like, and running any report.
"Our browser client enables us to offer full Software as a Service, and paves the way for full real-time functionality from all modern mobile devices - many of which, of course, we already support," concluded Stephen Jay.
Download the brochure on Enterprise by HansaWorld 6.2 >>