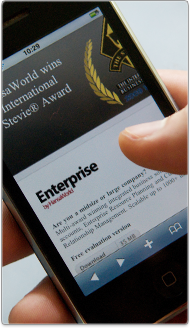 HansaWorld @ Macworld | iWorld 2012
Macworld | iWorld 2012
took place at San Francisco's Moscone Center West between 26-28 January. Representatives from a wide range of businesses and industries attended on the first two days, giving way to private consumers on the Saturday.
HansaWorld presented their Integrated Business Platform, Mobile Sales application for the iPad and the new Standard product family.
Visitors to HansaWorld booth were impressed with how well 45 modules have been integrated in to a single business platform, something none of the competitors is currently able to do. HansaWorld technology allowing parts of the business platform to run on the iPad was also a big talking point.
With the current high level of demand for sales tools on the iPad, Mobile Sales product received a lot of attention, especially because of its speed and ease of use.
Also many attendees from startup companies were looking for their first accounting system. HansaWorld were able to offer our Standard products as the ideal solution.