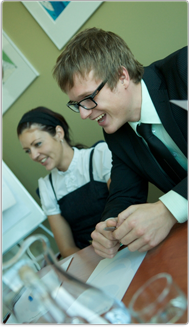 Careers at HansaWorld
Be a part of a team dedicated to change the business world. Be a HansaWorld team member.
Here at HansaWorld, we believe that we are living in extraordinary times. Computers and the Internet seem to be an unstoppable and never-ending source of reformation and globalisation. Software is everywhere. It is in our cars saving lives, in our home controlling TVs and refrigerators, in our phones and in most of our children's toys. HansaWorld is dedicated to be at the forefront of these changes and provide the world with innovative and life changing business software.
HansaWorld is an equal opportunity employer with a deep commitment to diversity. All individuals, regardless of personal characteristics, cultural background or age are encouraged to apply.
A career
in HansaWorld
If you are interested in working for HansaWorld, please
send us an email with your CV and a cover letter
.